Got a passion for singing? Got an iPhone, iPad, iPod touch or Android device? Now with iRig Voice you can turn your smartphone or tablet into the ultimate portable vocal studio and monster karaoke rig!
มีให้เลือกทั้งหมด 5 สี Green, Blue, Yellow, Pink และ White
Handheld vocal microphone
iRig Voice is a fun and colorful handheld vocal microphone that's optimized to deliver stunning audio quality. It's the perfect companion for all your favorite karaoke and music creation apps — simply plug it in to your device and start singing.
iRig Voice features an ergonomic design for hours of comfortable handheld performance, and its shape fits easily into most standard microphone stand clips for stage use. iRig Voice is optimized for vocal frequency range reproduction, it utilizes a compact cardioid pattern for close voice pickup which minimizes feedback when used with speaker systems. It has an on/off slide switch for quick muting of unwanted sound and an oversized strain relief cable end for durable, consistent performance even during high-energy performances.
The colors of sound
iRig Voice comes in 5 stylish colors: Green, Blue, Yellow, Pink and White adding a bright new level of style to any performance. The casing is formed from a strong and durable, yet lightweight, pigmented thermoplastic that wont fade over time. A lightweight durable aluminum mesh cage completely encloses the mic capsule for protection from drops, and a breathable moisture barrier keeps vapor out of the capsule for flawless performance every time.
Features
Handheld vocal microphone delivers professional sound quality
Compatible with iPhone, iPad, iPod touch, newer Mac models and Android devices
Compact cardioid pattern minimizes feedback
Constructed of durable, lightweight thermoplastic
Available in 5 colors: Green, Blue, Yellow, Pink and White
Comes with EZ Voice app
Works with dozens of karaoke, sing-along and music making apps
Headphone jack for real-time monitoring
Convenient on/off switch located on the mic
Specs
iRig Voice Specifications
Microphone Type: condenser electret
Polar Pattern: unidirectional/cardioid
Frequency Response: 100 Hz - 15 kHz, -3dB
Maximum Sound Pressure (set for high sound pressure): 105 dB
Distortion: 3% THD at 105 dB, 1 kHz
Windscreen: built-in
Power and Connection: works with iOS, most Android devices (CTIA/AHJ compatible) and most Mac computers
---
Package includes
Dimensions
Microphone Size: 215mm/8.46" x 53mm/2.09" x 53mm/2.09"
Microphone Weight: 253g/8.92oz
Cable Length: 2m/78.74"
---
Requirements
iOS Devices

Compatible with iPhone 6 Plus, iPhone 6, iPhone 5s, iPhone 5c, iPhone 5, iPhone 4s, iPhone 4, iPhone 3GS, iPod touch (5th, 4th and 3rd generation), iPad Air 2, iPad mini 3, iPad Air, iPad mini 2, iPad 4th generation, iPad mini, iPad 3rd generation, iPad 2, iPad. iOS 4.3 or later is required.
Android Devices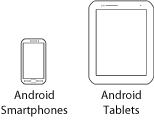 To be compatible, the mobile device must be compliant with the CTIA/AHJ wiring standard, which is illustrated as follows. As of today, all popular Android devices branded Samsung, LG, Motorola, Google Nexus, HTC, Huawei, Sony, Lenovo, Xiaomi and more, use this standard.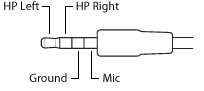 Computers

Mac®: Most Mac computers from 2008-2013 are compatible with the exception of the Mac Pro line.
There are issues with 2014 MacBook Pro and MacBook Air models as well as late 2013 iMac models, making them not compatible.
Aside from the above Mac models, you can check for your Mac compatibility by selecting:
About This Mac > More Info > System Report > Audio
and check that "External Microphone / iPhone headset" is appearing on the list of included features.