Large-diaphragm, compact size,
analog studio condenser microphone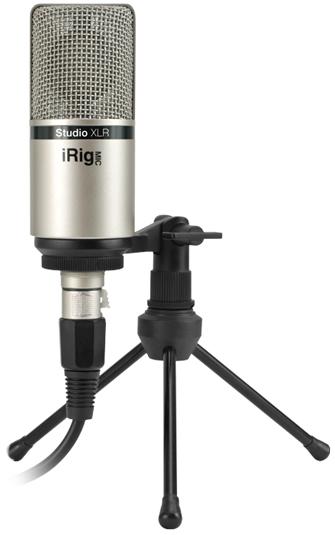 Now there's a compact XLR studio microphone for making professional recordings anywhere, any time.
iRig Mic Studio XLR is an ultra-compact cardioid studio condenser microphone designed to be used in your standard studio setup, or for capturing pro recordings on the go with your iOS, Android or Mac/PC and a compatible interface like iRig Pro Duo, iRig Pro or iRig Pre.
Developed for professional studio-quality recordings, the iRig Mic Studio XLR features a high quality unidirectional 1" condenser-electret microphone capsule. The iRig Mic Studio XLR is a pro-quality condenser microphone that requires 48v phantom power which may be provided by a mixer, external microphone preamplifier or interfaces like iRig Pro Duo, iRig Pro or iRig Pre. Output from the microphone's XLRM-type connector is Low impedance balanced.
Record anything – anywhere
Despite its professional features and sound, iRig Mic Studio XLR is extremely compact and affordable, with just 45 mm diameter and about the length of an iPhone. iRig Mic Studio XLR fits easily into your laptop or gig bag for on-the-go recording anywhere inspiration strikes.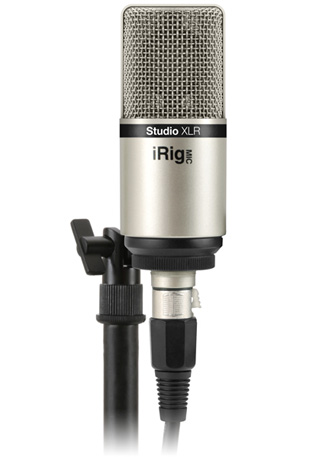 Simply plug iRig Mic Studio XLR into your mobile interface's XLR input, turn on the phantom power, adjust the gain settings for your application and hit record. Use iRig Mic Studio XLR to record ideas quickly and easily — mic your guitar amp in a snap, capture that acoustic performance with ease or over-dub a stunning vocal into your mix on the go. You can use it to record a single performance, or an entire band. And with its unidirectional pattern design, you can easily capture your audio source with no background noise interference.
When used with an iRig Pro Duo, you'll have the perfect idea-capturing system for the traveling singer-songwriter group writing sessions — plug iRig Mic Studio XLR into one channel for vocals and use the other channel for your acoustic input. AmpliTube and VocaLive for iOS both support multi-channel recording giving you the perfect "plug-and-play" solution for recording mobile sessions.
Now you have the XLR flexibility to grab stunning audio on the go with iRig Mic Studio XLR.
Features
Professional studio microphone with large-diaphragm capsule
Ultra-compact size that's easy to carry around
High-quality 1" back electret condenser capsule
Cardioid polar pattern reduces pickup of sounds from the sides and rear, improving isolation of desired sound source
Perfect for use with iRig Pro Duo, iRig Pro and iRig Pre, but works with any standard XLR interface/input
48v Phantom power required
Includes portable tripod tabletop stand and microphone stand clamp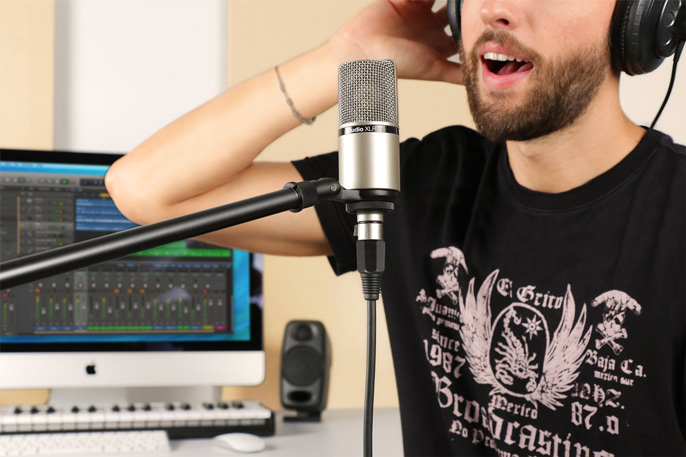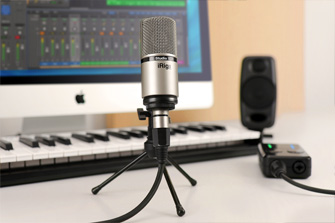 iRig Mic Studio XLR Specifications
Microphone Type: condenser, back electret
Capsule Size: 1"
Polar Pattern: cardioid, unidirectional
Frequency Response: 20Hz - 20kHz
Maximum Sound Pressure: 142dB
Sensitivity: -37.5dB at 1 kHz
Equivalent Noise Level, A-weighted: 17dB-A
Connector Type: male 3-pin XLR
---
Package includes
iRig Mic Studio XLR microphone
XLR connection cable (2m/6')
Mic clamp
Table top stand
Dimensions
Size: 45mm/1.77" x 117mm/4.61"
Weight: 218g/7.69oz
Cables length: 2m/6'
---
Compatibility
Compatible with any microphone preamplifier with phantom power supply. Can be connected to a Mac, PC, iPhone, iPad, iPod touch using an interface like iRig Pro Duo, iRig Pro or iRig Pre.