25-key MIDI Controller and USB Audio Interface with Software Package - Mac/PC/iOS
Combining a 25-key MIDI controller and USB audio interface in a portable package, IK Multimedia's iRig Keys I/O 25 is great for on-the-go music creation. You'll love the feel of the 25 full-size, velocity-sensitive keys. Craft killer drum patterns with eight touch-sensitive RGB LED backlit drum pads. Touch-sensitive sliders and buttons plus touch-sensitive rotary controllers put you in complete command of your soft synths and other apps. The built-in audio interface is top-notch, featuring 24-bit/96kHz sound quality, a Neutrik combo input, and phantom power. The iRig Keys I/O 25 even includes a comprehensive software package with T-RackS Deluxe, SampleTank 3, Miroslav Philharmonik 2, Ableton Live 9 Intro, and SampleTank iOS for iPad and iPhone!
Included software to jump-start your creativity
The iRig Keys I/O 25 comes with everything you need to start creating music on your laptop or iOS device. T-RackS Deluxe provides you with a total of 10 incredible mixing and mastering tools. SampleTank 3 is loaded with over 33GB of samples, 4,000 ready-to-play instruments, 2,500 rhythm loops, and 2,000 MIDI files. Miroslav Philharmonik 2 is an absolute must-have tool for any modern composer, with strings, woodwinds, brass, percussion, and more. And Ableton Live 9 Intro is the perfect platform for creating and performing your music. On top of that, SampleTank iOS for iPad and iPhone puts great-sounding, full-featured mobile sound and groove production at your fingertips.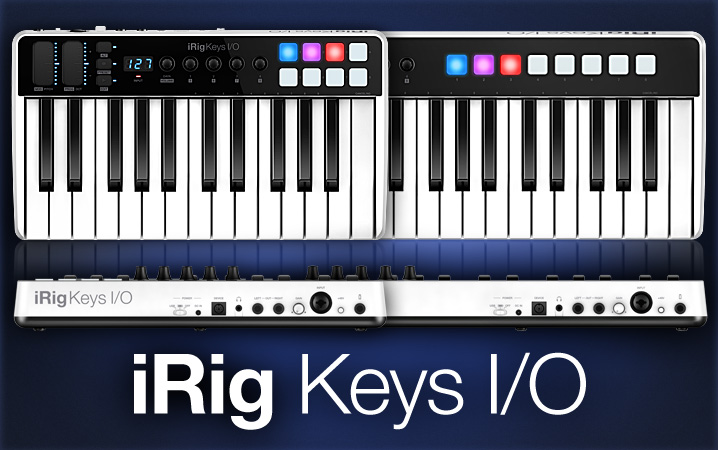 The all-in-one music production station that goes anywhere you want
A total music production system in a controller
The iRig® Keys I/O series evolves the concept of traditional controllers as the only one available on the market that integrates 25 or 49 full sized keys together with a fully-fledged professional audio interfacefeaturing 24-bit audio up to 96kHz sampling rate, balanced stereo and headphone outputs, plus a combo input jack for line, instrument or mic input (with Phantom power.)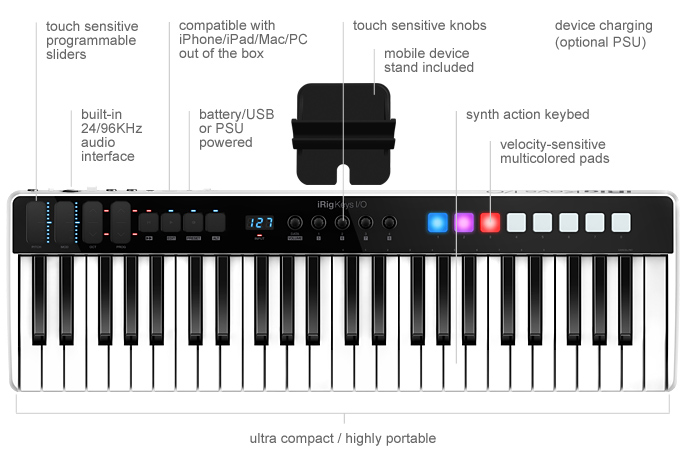 Together with an audio interface, iRig Keys I/O also packs all the controls you would expect from a premium controller including velocity sensitive multicolored pads and programmable touch-sensitive sliders, buttons and knobs for unique expressiveness and fast workflow.

Both iRig Keys I/O 25 and 49 are also the smallest full sized keys on the market making them the best solution for working in small spaces and ideal when it comes to having a controller for traveling musicians, in addition to the consideration that they are the only truly mobile devices that can also work on AA batteries.
Being certified Apple MFi keyboard controllers ("Made for iPod, iPhone, iPad,") iRig Keys I/O are guaranteed to work out of the box with all iOS devices including the latest generation of iPhone 7, that does not have an audio output, thanks to the on-board audio interface. The included Lighting cable allows for straight plug-and-play with Apple iOS devices, the USB cable connects Mac and PC computers.
Plus with over $/€550 (25) and $/€750 (49) worth of IK full software and apps they include an unmatched selection of everything that is needed to make complete, finished productions out of the box like the full SampleTank 3 sound and groove workstation, Miroslav Philharmonik 2 CE orchestral workstation, Syntronik Pro-V vintage synthesizer, T-RackS Deluxe mix and mastering suite and more, as the ultimate music production station.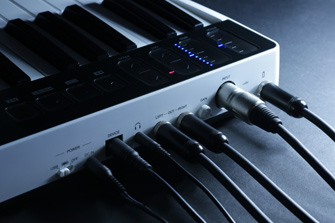 The only controller with an audio interface
Having a professional 24-bit / 96kHz capable complete audio interface built-in with iRig Keys I/O presents many advantages versus regular controllers for today's musicians. The system becomes self-contained taking up minimal space in any situation whether on a small studio desk or when playing live and traveling. The set-up is also kept to a minimum and is as fast and easy as just plug and play. The work environment becomes clean and tidy, without a bunch of extra cables.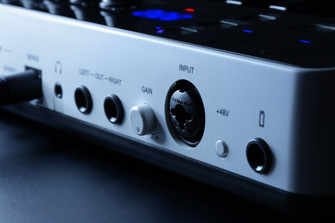 In a recording studio, everything can be connected directly to the keyboard ensuring the best possible quality with a Class A preamp for dynamic and condenser mics (including those requiring 48V Phantom power, which works under battery power as well,) to line instruments and even Hi-Z guitars and basses. The built-in headphone output allows for convenient silent playing when studying or practicing. Plus, when used in live performances the balanced stereo output allows for long cable runs directly from the keyboard to the PA or mixer which is useful for performing keyboard players or DJs.


All of this makes iRig Keys I/O controllers the ideal creative center of your studio or live performances, in any situation, providing a convenient solution even more affordable than having to buy a controller and an audio interface separately, that is simply unrivaled in today's market.
Take control with touch controls
Despite their ultra-compact dimension, iRIg Keys I/O include all the tactile controls you would expect from a fully-fledged controller and more. Starting with a fast synth-action key bed that improves on all preceding IK keyboards and it's a joy to play. Both the models feature one volume/ data push knob, 4 touch sensitive knobs on 2 banks (acting as 8 total controls) and 8 multicolored, velocity sensitive pads. Plus, there are 2 fully programmable touch control strips acting by default as Pitch and Mod controls allowing for dramatic performances in any genre and double as fully programmable sliders.
A complete touch sensitive transport and button control section rounds out the controls available. All knobs, sliders and buttons are touch-sensitive using capacitive technology for ultra-fast action and immediate feedback, displaying the related parameter value just with a simple touch.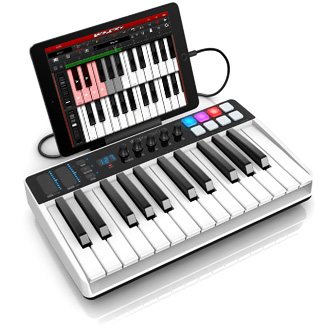 Perfect for mobile, great with computer
iRig Keys I/O work universally with all types of devices whether mobile, laptop or regular desktop computer. They are ideal for iPhone and iPad thanks to the included Lighting cable connections and certified MFi compatibility. Additionally, they offer more iOS friendly features that can't be found with any other controller like the included mobile device stand and the possibility to keep the device charged during long playing session using an optional power supply adapter, and of course the included audio interface that makes them perfect when used with the latest generation iPhone 7 that lacks a mini jack audio output.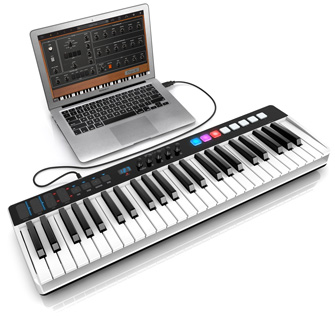 The fact that they are also the only keyboard controllers that work on AA batteries make them an ideal solution for mobile mini laptop computers where the USB port can't supply enough current to power the keyboard. Musicians working on multiple devices will also find iRig Keys I/O the most convenient solution for bridging their work across multiple platforms by using the same controller.
Save space, travel light
With a size that is over 30% smaller (for the 25 keys) to nearly 50% smaller (for the 49 keys) than the smallest competitor, iRig Keys I/O are the most compact full size keys controllers on the market today (plus with the included audio interface they take up even less space.) This is a major advantage when it comes to working in small studio spaces or in a regular studio where the space available for the keyboard controller is minimal.

Plus, iRig Keys I/O can't be beaten for the traveling musician, not only for their minimal dimensions but also because they are 25% lighter than the lightest competitor. There is also a convenient travel bag available (sold separately,) for both models.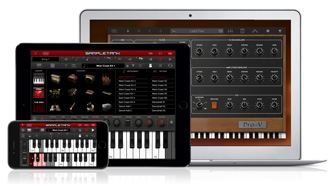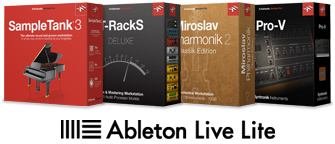 Full professional software ready to go
iRig Keys I/O comes with the largest selection of software and apps amongst any comparable controller. While reduced or light versions of software are generally bundled with other controllers, iRig Keys I/O includes a staggering quantity and value of full software. Starting with the full version of SampleTank 3 sound and groove workstation, T-RackS 4 Deluxemix and mastering suite, Syntronik Pro-V vintage synthesizer and Miroslav Philharmonik 2 CE* orchestral workstation for Mac/PC, iRig Keys IO includes 13 full plug-ins (3 instruments and 10 dynamic and EQ audio processors), over 5,000 sounds and 43 GB of samples, that is roughly ten times more than the closest competitor. Plus, for iPhone and iPad users the full version of SampleTank, Syntronik Pro-V and Miroslav Philharmonik Mobile Edition collection* are also included for a staggering value of $/€750 (49 keys version) and over $/€550 (25 keys version.) Just add your preferred DAW or a powerful free composing tool like GarageBand and make entire compositions in any music style (acoustic, electric, electronic) and any genre right out of the box.
* Miroslav Philharmonik2 CE for Mac/PC and Miroslav Philharmonik Mobile Edition collection for iOS are available only in the iRig Keys I/O 49 version.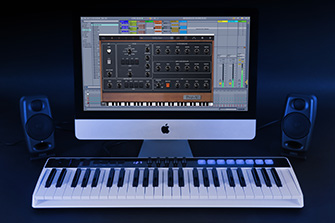 DAW-ready of out the box
Works right out of the box with popular Digital Audio Workstation (DAW) software like Ableton Live, Studio One, GarageBand and Logic. iRig Keys I/O is the plug-and-play production solution that sets up easily taking the time and worry out of configuring multiple devices, simplifying your setup and allowing for more focus on creativity.
Features
All-in-one, fully portable, ultra-compact MIDI controller with 24-bit / 96kHz capable input/output audio interface for iPhone, iPad, Mac and PC
Available in 49 or 25 keys versions with full size keys and smooth, velocity-sensitive, synth-action keyboard
Smart, ultra-compact, elegant design
Easily transportable, fits anywhere
MFi certified by Apple ("Made for iPhone and iPad") includes Lightning Cable
Includes mobile device support stand
Comprehensive controls: 2 slider strips for pitch and modulation (user programmable,) octave, program change and transport controls, 5 programmable touch sensitive knobs, 8 velocity-sensitive multi-colored assignable pads
Neutrik® combo input jack for line, instrument or microphones
48V phantom power button
Balanced stereo and headphone outputs
Powered by USB, 4 AA batteries or optional external power supply (charges your iOS device)
Comes with the most comprehensive collection of software instruments and pro studio processors on the market: a value of over $/€ 550 (25-keys model) and $/€ 750 (49-keys model) for software and apps
Microphone Input
Microphone Input: balanced female 3-pin, XLR. Pin 2: hot / Pin 3: cold / Pin 1: ground
Microphone Input Level: from 6 mVpp to 1.4 Vpp
Microphone Input Impedance: 3.2 kOhms
Gain Range: 46 dB
Phantom Power: +48V ± 4V
Frequency Response: 20 Hz - 20 kHz +/-1.5dB
Input Noise: -100 dB RMS
Instrument Input
Instrument Input: unbalanced, Hi-Z, TS 1/4" Jack, Tip: signal / Shield: ground
Instrument Input Level: from 30 mVpp to 6.9 Vpp
Instrument Input Impedance: 1 MOhms
Gain Range: 27 dB
Frequency Response: 20 Hz - 20 kHz +/-1.5dB
Input Noise: -100 dB RMS
Line Output
Line Outputs: 2x balanced, TRS 1/4" Jack, Tip: hot / Ring: cold / Shield: ground
Floating Balanced Outputs with automatic level compensation when working in unbalanced mode
Maximum Output Level: +13 dBu into 600 Ohms balanced load
Frequency Response: from 10 Hz to 21 kHz (+/- 0.2dB)
Output Dynamic Range: 102 dB(A)
Output Impedance: 150 Ohms balanced
Stereo Headphone Output
Connector: 1/8" TRS Jack. Tip: right / Ring: left / Shield: ground
Headphone Level Power 100mW into 50 Ohms
Other Input/Output
DC barrel: 1x DC barrel. For power and device charging.
Device Connector: mini-DIN
External Pedal Input: 1/4" TRS Jack
Common
Conversion: 16 or 24-bit A/D - D/A
Sampling Rate: 44.1 kHz, 48 kHz, 88.2 kHz and 96 kHz
Power:
• USB bus powered when used with a computer
• Battery powered (4xAA included) when used with an iOS device
• DC power supply (not included, iRig PSU 3A sold separately)*
Keyboard
Keys: 25 full-size keys with velocity
Pads
8 velocity-sensitive multi color assignable pads
Controls
Slider strips for pitch and modulation (user programmable)
Octave, program change and transport
5 programmable touch sensitive encoders
---
Package includes
iRig Keys I/O 25 keyboard
Lightning to Mini-DIN connection cable (60cm/23.62")
USB to Mini-DIN connection cable (60cm/23.62")
iPhone/iPad stand
4 x 1.5V AA Battery
iRig Keys I/O 25 Dimensions
Size: 373mm/14.7" x 208mm/8.2" x 65mm/2.6"
Weight: 1.26kg/44.5oz (batteries excluded)
---
Compatibility
iOS Devices
Compatible with iPhone 7 Plus, iPhone 7, iPhone SE, iPhone 6s Plus, iPhone 6s, iPhone 6 Plus, iPhone 6, iPhone 5s, iPhone 5c, iPhone 5, iPod touch 6th generation, iPod touch 5th generation, iPad Pro (12.9-inch) 1st Generation, iPad Pro (9.7-inch), iPad mini 4, iPad Air 2, iPad mini 3, iPad Air, iPad mini 2, iPad mini, iPad 4th generation. iOS 6 or later is required.
Computers
Mac®: macOS® 10.6 or later. One free USB port.
Windows®: Fully supports Windows 10 WASAPI for low latency audio. One free USB port.
(ASIO4ALL is required on Windows 7 and 8 for low latency audio. See our FAQ here for further details.)
NOTE: on Windows XP iRig Keys I/O works only as MIDI controller.
* Use only the specified AC adaptor
Use only the specified AC adaptor (iRig PSU 3A)) and make sure the line voltage at the installation matches the input voltage specified on the AC adaptor's body. IK Multimedia will not be responsible of any damage caused by usage of any AC adaptor other than the specified one (iRig PSU 3A). The usage of AC adaptors other than the specified one (iRig PSU 3A) could compromise the user experience in terms of: Safety risk, Apple device charging performances, Noise performances